What's Been Said about

Bsharah Public Relations?
"I first met Mike while he was Dearborn Director of Public Information, and I was a resident serving on a City commission. What he accomplished during his time at City Hall was insightful, strategic, coordinated and impactful. Since that time, I have worked with Mike on every one of my campaigns and on various community issues. His skills are excellent and his writing produces results. I am most pleased that his work is always on time, and more importantly, on target. His work is an essential part of my campaigns and I look forward to working with him on upcoming issues." -- Thomas P. Tafelski, President Pro-Tem, City Council, Dearborn, Michigan

"I had occasion to work with Michael on a very sensitive situation concerning our Mosque on Ford Rd. in Dearborn. The situation called for some insightful thinking in dealing with a potential PR disaster. Michael provided that by bringing his vast experience to the table. The ideas that Michael proposed and the strategies he recommended were extremely useful in helping to turn a possible PR fiasco into a PR plus for the thousands of people involved. Mike's strategic thinking and exceptional PR experience literally saved the day for all of us. Mike is definitely my "go-to-guy" in any situation where a focused individual is needed to guide you through the hidden pitfalls of dealing with the media." -- Ron Amen, Director of Community and Economic Development, City of Dearborn Heights, Michigan

"Michael was invaluable in establishing and maintaining relationships with public officials throughout West Virginia as well as with the media. He was pivotal in keeping all parties up to date with accurate information." -- Anthony Galante, Charleston, West Virginia Census Office Manager

"Happy to recommend you for your work with the City of Dearborn. I watched as you did a masterful job of collecting data and communicating multiple messages to various communities seamlessly and continuously. It was a challenge well handled." -- Fred Hoffman, Former Director of State Relations, Chrysler Corporation and currently Principal at Hoffman Consultants LLC

"... (Michael's) success comes from some exceptional talents. His communication skills in all sorts of environments are terrific. He has worked as a spokesperson and a public speaker, providing informal information to small groups to hundreds of people in a formal setting. He has dealt with adversity and criticism effectively. Many people, particularly in some of the rural areas are not big fans of government. He continues to be productive despite negative environments... he follows through and doesn't need to be reminded about deadlines." -- James T. Christy, Regional Director, United States Census Bureau


---
Powered by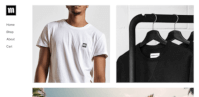 Create your own unique website with customizable templates.